Census 2000 Package: includes all of our 2000 Products: Long Form, Short Form, Redistricting, and the 2 Block products. This gives you access to all of the 2000 data for all of the geographies.
2000 Long Form (SF3) – has all of the most important variables, such as income, employment, housing value, educational attainment, along with most of the variables from the Short Form etc.
2000 Short Form (SF1) – is the 100% count data that all Americans are required to complete. It has the basic information about Americans – age, race, gender, family structure. The 2000 Short Form also has detailed tract-level information about Hispanic, Native Americans, Asians, and Pacific Islanders background categories
2000 Short Form Blocks – is the SF1 data set but at the block level – covering all 8.2 million blocks in the US.
Redistricting – is the file that Congress uses to redraw the boundaries. This data set is very limited but has a very robust geographic boundary file including things like Voter Districts, Upper and Lower State Houses, school districts, etc.
Redistricting Blocks – this has the same data limitations and robust geographic abilities. This is the basis for creating area-to-area correspondence files.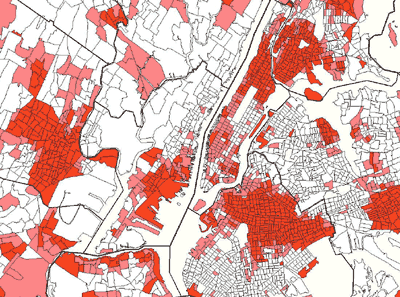 Blacks in NYC Metro Area: Census 1970
Light Red Areas have >2% to 14 % and Dark Red Areas have >14%